Japan Lute Society News Letter No.38 | February 2022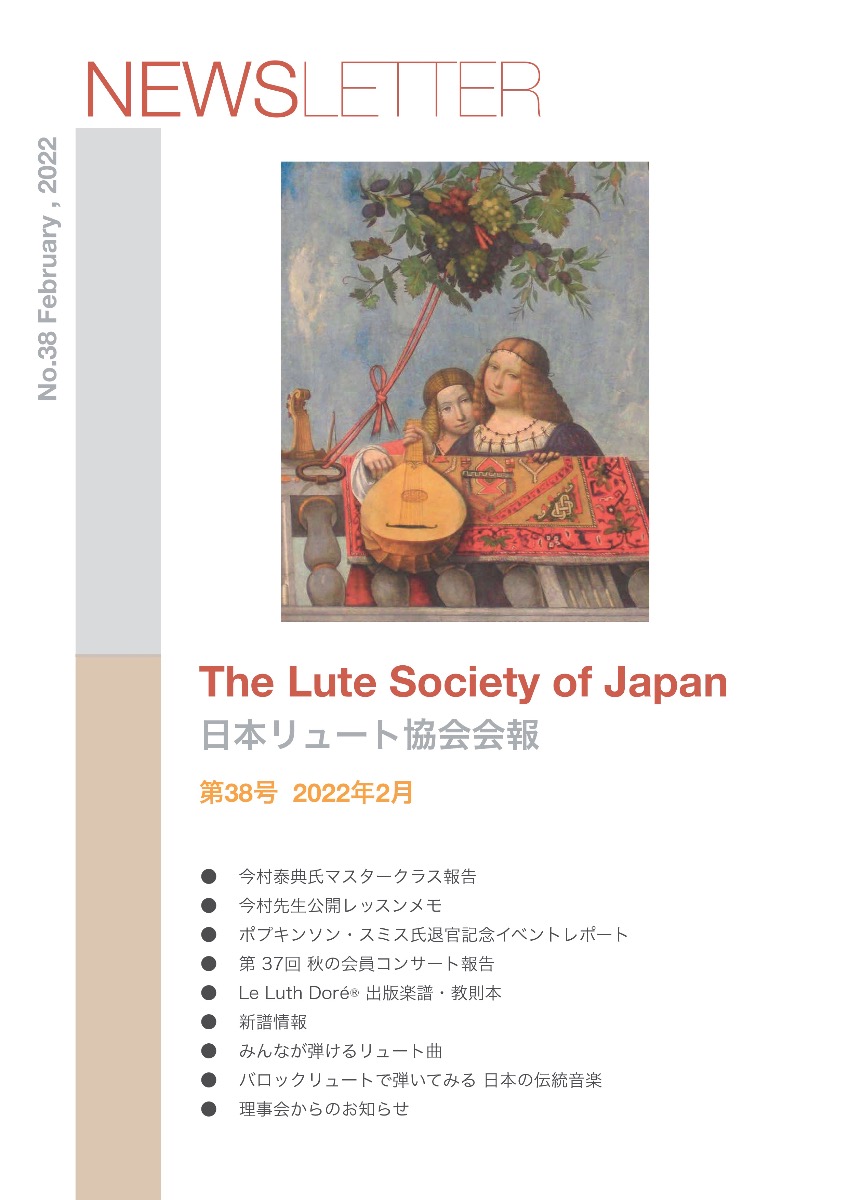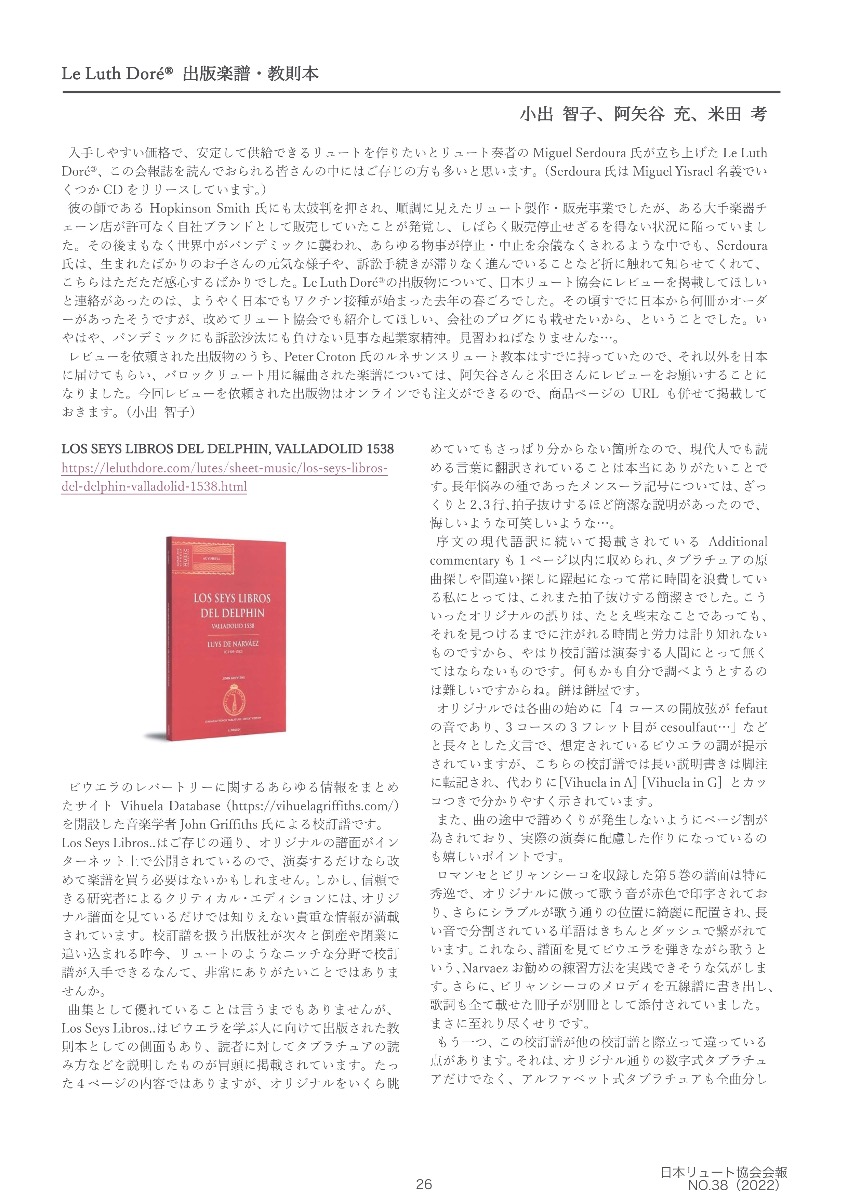 Los Seys Libros Del Delphin, Valladolid 1538
Review by Tomoko Koide
---
A critical edition by John Griffiths, who established a Vihuela Database, a website that provides all the information about the Vihuela repertoire.
The Los Seys Libros Del Delphin is available on the internet, so if you just want to play it, you may not need to obtain its printed copy. However, the critical edition by a trusted researcher contains full of valuable information that cannot be known by just looking at the original printings.
Not to mention that Los Seys Libros Del Delphin is a great collection of vihuela repertoire, it has instructional feature in it such as explanation on reading tablature and performance tips. Those guides and explanation intended to be read by the contemporary readers and lute learners are now well translated into modern English.
Additional commentary compiled in a single page provides sufficient list of errata and corrections which cannot be easily identified by an autodidactic learner like myself.
Also noteworthy is the page layout; the number of page-turning is optimized as little as possible.
Another point that makes this edition remarkable is that it has whole pieces in two different notations on the separate pages. I strongly recommend this edition for those who hesitate to play vihuela repertoires because of the numerical tablature notation!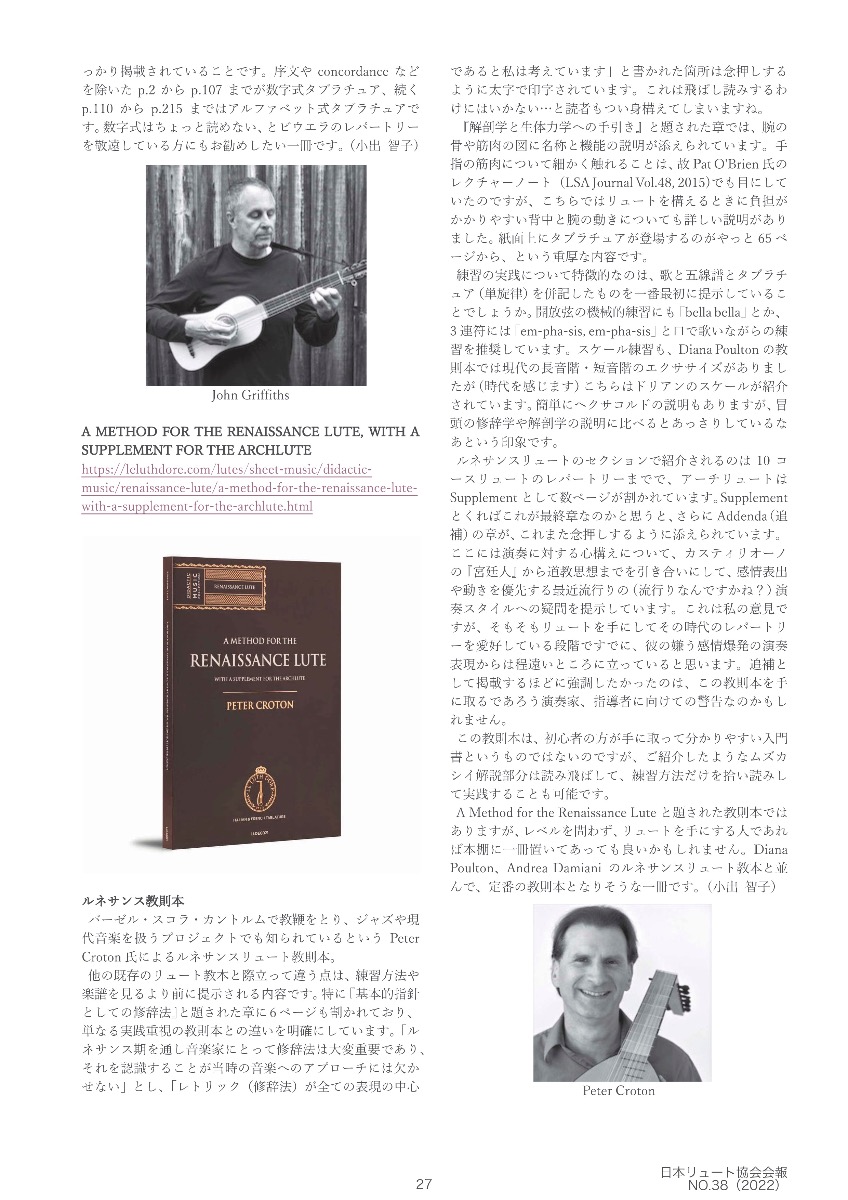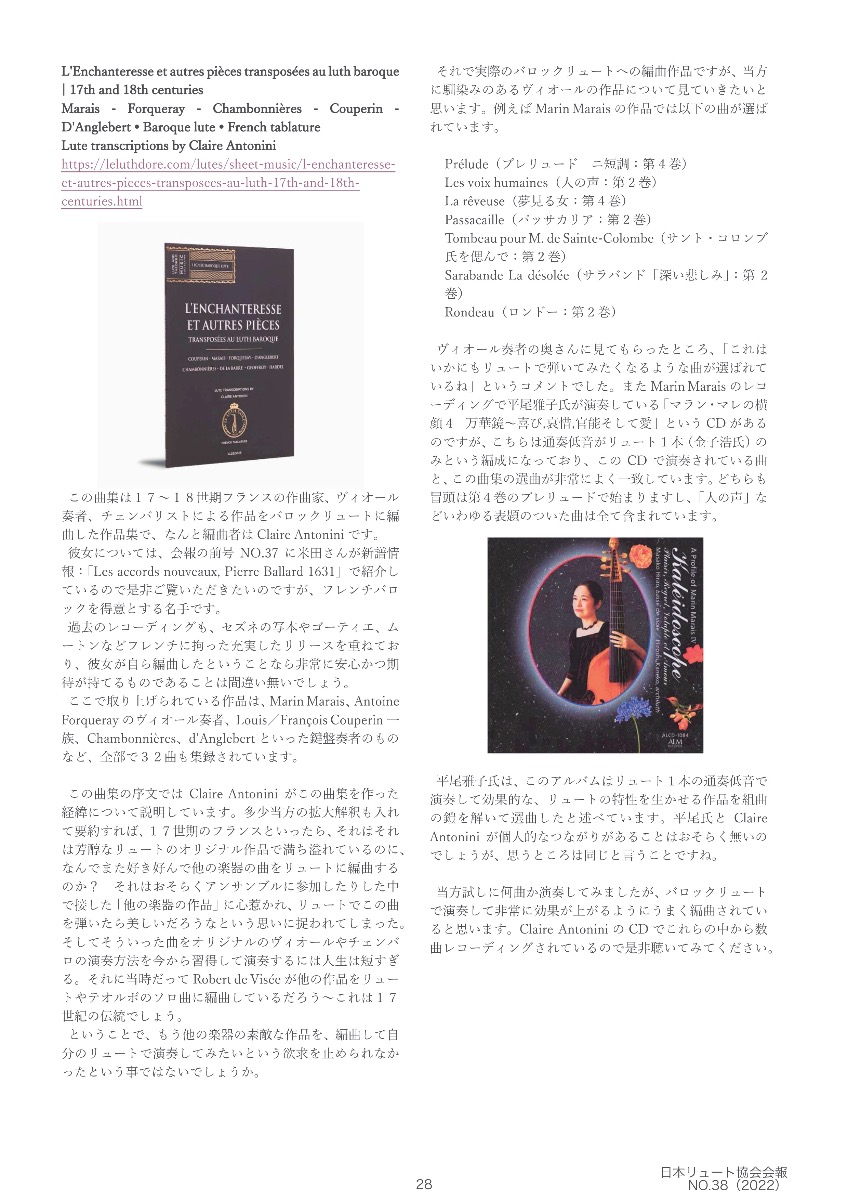 A Method For The Renaissance Lute, With A Supplement For The Archlute
Review by Tomoko Koide
---
What sets it apart from other existing lute textbooks is the content presented prior to practical exercises and technique. I was impressed to find that as many as six pages devoted to the chapter entitled "Rhetoric as a guiding principle," stating that "I see rhetoric as the central point around which all the expressive devices revolve," and exceptionally detailed descriptions of muscle and bone movements in the chapter "Introduction to Anatomy & Biomechanics" before finding tablatures on the page.
A Method For The Renaissance Lute by Peter Croton will be a perennial choice for all the Renaissance lute players, regardless of their level or proficiency, along with tutor books by Diana Poulton or by Andrea Damiani.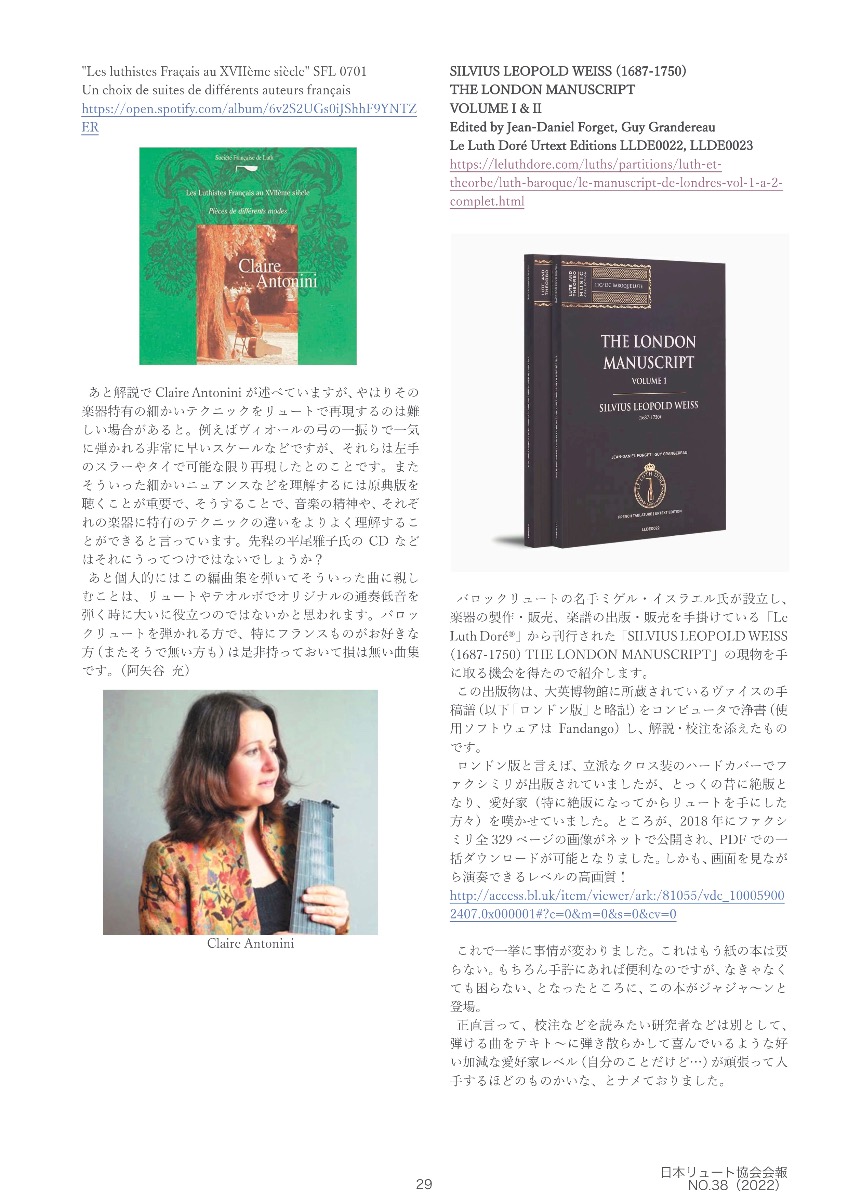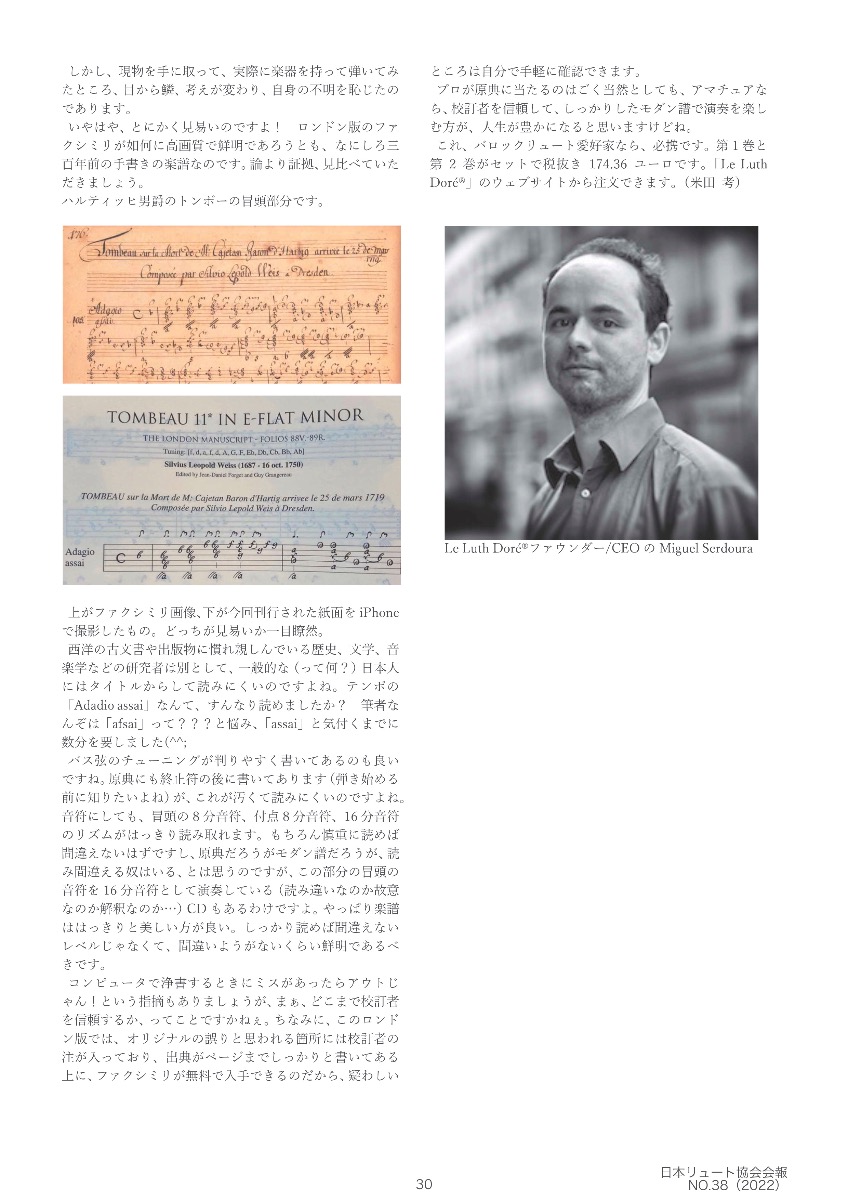 The London Manuscript, Volumes I & II | Silvius Leopold Weiss (1687-1750)
Review by Tomoko Koide
---
This publication is a clean copy, generated by the software "Fandango", of Weiss' Manuscript a.k.a. London MS., collated and proofread.
Printed edition of London MS has long been out of print since last time it was published as a gorgeous clothbound book. However, in 2018, PDF data of all the 329 pages wise facsimile became available on the internet, at very high resolutions that one can easily play the pieces on it.
This drastically changed the circumstances of us lute players. We don't have to obtain a printed copy anymore! ....
I was proven wrong after looking into this edition carefully fone by Jean-Daniel Forget and Guy Grangereau: the visual clarity of the music is simply amazing! The placement of explanation for the diapason tuning is better than the original; it is presented before each piece not at the end as in the original. You might want to enjoy playing with this clearly legible and reliable critical edition rather than looking into the original alone.
This is a must-have for all the baroque lute players!
L'Enchanteresse et autres pièces transposées au luth baroque | 17th and 18th centuries
Review by Mitsuru Ayatani
---
This book is an anthology of works of violist or harpsichordist from 17th to 18th century, transcribed for baroque lute. To my surprise, the editor is Claire Antonini, who is exceptional in playing French Baroque repertoires.
As seen in the pieces she played on her recordings–pieces from the Manuscript of Vaudry De Saizenay, works by Gaultier and Charles Mouton, she has been focusing on French repertoires. I am sure that the quality should be guaranteed as she herself arranged those pieces.
My wife, who is a viol player, commented that the pieces selected in this book surely made you want to play them with a baroque lute. I believe that familiarizing yourself with those pieces by playing actually them will greatly be of help in playing basso continuo. Those who play the Baroque lute, especially those who prefer French repertoires (or not), are unlikely to regret the purchase.